I look upon this annual selection process with some trepidation. It's a kind of literary Sophie's Choice in the sense that every book I write about is loved, and to choose one above the other seems disloyal and unfriendly. You see, I not only support anthropomorphism in picture books, the books themselves possess qualities far beyond their threaded spines. When words inspire art, and a perfect picture book is born, the characters, be they animal, human or carrot, dance off the page. They have lives. They are alive. And for that I am grateful, and humbled.
With these words in mind, one book soared like no other this year. Little Bird by Germano Zullo, with illustrations by Albertine is the reason why I collect picture books, and why I write about them. The story of a delivery man in overalls, a sandwich, and a little black bird made my heart go thump this year. It's that simple. Little Bird is the perfect embodiment of what is best in us: kindness, humour, beauty, and above all, possibility.
Named one of the Best Illustrated Books of 2012 by the New York Times, Albertine's illustrations have a playful simplicity that belie the deeper meaning at the core of Little Bird. Though Albertine and writer Germano Zullo hail from Switzerland, the flat landscapes and prairie colours of blue,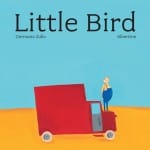 gold and red are reminiscent of western Canada, greatly charming this western Canadian. If not for Brooklyn-based publisher Enchanted Lion Books, Little Bird, originally published in French, may not have seen the light of day in North America. If you love beautiful picture books, start here, and start with Little Bird.
And now, in no particular order, the best of the best this year~
Two illustrators, three books. Yes, Jon Klassen and Oliver Jeffers have greedily taken a third of the spots on my list.
Though wildly divergent in illustrative style, Klassen and Jeffers share a deliciously weird sense of humour. The least funny of the trio is the stunning House Held Up By Trees, with Klassen's Wyethesque landscapes and Ted Kooser's quietly evocative words. Nominated for a Governor General's Award, Canada's highest honour for illustration, House Held Up By Trees is a literal and figurative description of a family and a house in transition. The power of nature to uplift is a timely message, and Held Up By Trees relays it with heart-grabbing elegance.
Also by Jon Klassen, This is Not My Hat continues where I Want My Hat Back left off. Sort of. In real life, justice rarely prevails, but in Klassen's 'hat' books, it triumphs, much to my great, giddy satisfaction. A little fish steals a hat, and let's just say he doesn't get
away with it. Stories written for children tend toward dreary didacticism, but not here. Klassen's very dry sense of humour suggests his intention is to amuse, not educate, which explains the huge appeal of his books to adult audiences, as well as to children. It's also the art. Never has the ocean looked so black, or foreboding…especially if you are a boastful little fish with an ill-gotten hat.
Continuing in the vein of witty brilliance, Oliver Jeffers' This Moose Belongs to Me is the most recent of the many books published by this highly prolific illustrator and painter. I'm a sucker for goofy faces and long snouts, and Jeffers is a master of both, which is why This Moose Belongs to Me is such a spectacularly awesome book. Boy meets moose, and an instant, if somewhat wire-crossed friendship is struck. The illustrations are a mix of Jeffers' quirky characters set against mountain scenery painted by Alex Dzigurski, which give This Moose Belongs to Me a rather majestic vibe.
2012 marks the 200th anniversary of the first publication of Children's and
Household Tales by the Grimm brothers, and in celebration of this event, many new books (and one crap television show) have appeared on the shelves. Taschen's door-stop compendium is a treat, as is Fairy Tales from the Brothers Grimm (Puffin), and Phillip Pullman's re-told tales, but no other book is as beautiful as Lisbeth Zwerger's Tales From the Brothers Grimm. Familiar and unfamiliar tales inspire some of the loveliest art Zwerger has ever produced; an astonishing feat considering her remarkable body of work thus far. This book belongs in every bibliophile's library.
2012 may be the year of the Brothers Grimm, but it is also the year of the Brothers Hilts. Out of nowhere, the fabulous Insomniacs materialized. This is such an accomplished and beautiful piece of work, I'm shocked that it is the first book by these American brothers. Not surprisingly, the Insomniacs is a nighttime story, full of weird creatures and even weirder people, who remind me a little of the Addams family. Suffering from a very bad bout of sleeplessness following a move to the other side of the world, the family resolve their predicament in a most unusual and wonderful way.
No year is complete without a great dog book, and Carter Goodrich's Zorro Gets an Outfit is a great dog book. Zorro, the pug, and his cohabitant, Mister Bud (of indeterminate breed) continue their adventures in this sequel to Say Hello To Zorro, published in 2011. Dressing up dogs may be fun for humans, but for dogs…not so much. As mentioned previously in this
post (and often in the blog), I am all about snouts, and any illustrator who is deft with a nose is to be admired. Carter Goodrich is a master of snouts in particular, and of characterization in general. His illustrations makes me giggle, but more than that, he is able to covey the complex emotional life of a dog with a
few swishes of his paintbrush. More Zorro (and Mister Bud) please…
With ever increasing demands on my time and neural capacity, I did not get to all of the books I would have liked to in 2012, but had I done so, I'm almost certain William Joyce's The Fantastic Flying Books of Mr. Morris Lessmore (the Oscar winning short the book is based on is linked below), Ralph Steadman's Book of Cats, and several gorgeous books by Quint Buchholz (in German) and Ayano Imai would have made the 'best of' list. Nevertheless, I hope to write a word or two about these books in the early part of 2013, if I don't explode from mass consumption of butter tarts and shortbread by then.
Thank you to all the readers of this modest little blog, and especially to the writers and illustrators who make my heart go thump.