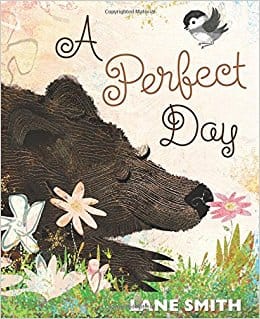 I bought this book for the bear.
That was enough. The bear with the corn-cob grin.
I remember when A Perfect Day was announced in 2016. I said, this will be my favourite book of 2017. I can't say whether this will prove to be true, but I can say this – the illustration of the bear with the corn cob stretched across his mouth is as good as it gets.
Bear aside, the rest of A Perfect Day is a wonder to behold, which of course is what I've come to expect from Lane Smith, an extraordinary illustrator and writer whose work so often ascends into the realm of genius.
Textural, beautifully observed and deeply humourous, Lane's illustrations are instantly recognizable, but the two-time Caldecott recipient always seems to find new and creative ways of making marks on a page. In A Perfect Day, he manipulates the natural lines of the paint strokes to suggest the fur and feathers of the animals in the story, each of whom are enjoying a perfect day for a variety of reasons. This is due – in part – to a boy named Bert, who in his generosity is enjoying his own kind of perfect day.
A cat rolls in daffodils. A dog sits in a wading pool of cool water. A recently filled bird feeder pleases a chickadee. A squirrel is the happy recipient of a corn cob. Each of them is having a perfect day, until a big, brown bear shows up and steals the corn cob from the squirrel, helps himself to the birdseed, guzzles water from the wading pool, and then rolls around in the flower bed, reflecting happily and contentedly on his perfect day.
Oh, bear.
Once I was camping with my family in Jasper and a bear strolled up to our campsite and helped himself to our hamburgers. All of them. Bears do what they want.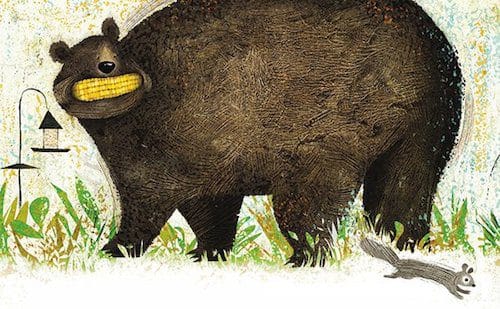 Each critter finds happiness in the small pleasures of a summer day, and this is especially true of the bear, who is either oblivious to the havoc he creates or is in fact taking pleasure in it. The way he kind of flaunts his acquisitions, his corn-cob grin for instance, suggests the latter. Not all pleasures are innocent.
The simple narrative is enlivened by beautiful and giggle-worthy illustrations that tell the story so vividly the words are largely unnecessary. Employing a number of different media, including (I believe) watercolour, pen and collage, Smith's sweet, and at times, woeful characters move from peace to chaos as the massive bear abruptly ends their perfect day. He is the ultimate vibe-killer.
There is just enough detail in Smith's illustrations to render form and expression, and the rest is just play. Highly skilled play, but play nonetheless. The way the paint overlaps and adheres to the surface, absorbing the varying textures of the paper. The mix of line, dot and splash, white space and colour. The way Smith captures, with an absence of detail, the luxuriating swish of the bears arms and legs in the flowerbed. Lane Smith has always been a unique and experimental illustrator, but in the creation of this book, he too is having a perfect day.
As any regular reader of this blog will know, and that's asking a lot considering my non-existent production of late, I love Lane Smith. To use hockey parlance, Lane Smith is a generational illustrator. The beauty of his illustrations and the quirkiness of his vision long ago separated this artist from the pack. Of course, there are other generational illustrators and like Smith, they too have carved out their own niche, but there is only one Stinky Cheese Man.
A Perfect Day by Lane Smith, Roaring Brook Press, 2017
Other Lane Smith picture books reviewed in this blog:
The Very Persistent Gappers of Frip (George Saunders, Lane Smith)
Abe Lincoln's Dream (Lane Smith)
Spooky ABC (Eve Merriam, Lane Smith)