I look upon this annual selection process with some trepidation. It's a kind of literary Sophie's Choice in the sense that every book I write about is loved, and to choose one above the other seems disloyal and unfriendly. You see, I not only support anthropomorphism in picture books, the books themselves possess qualities far beyond their threaded spines. When words inspire art, and a perfect picture book is born, the characters, be they animal, human or carrot, dance off the page. They have lives. They are alive. And for that I am grateful, and humbled.
With these words in mind, one book soared like no other this year. Little Bird by Germano Zullo, with illustrations by Albertine is the reason why I collect picture books, and why I write about them. The story of a delivery man in overalls, a sandwich, and a little black bird made my heart go thump this year. It's that simple. Little Bird is the perfect embodiment of what is best in us: kindness, humour, beauty, and above all, possibility.
Named one of the Best Illustrated Books of 2012 by the New York Times, Albertine's illustrations have a playful simplicity that belie the deeper meaning at the core of Little Bird. Though Albertine and writer Germano Zullo hail from Switzerland, the flat landscapes and prairie colours of blue,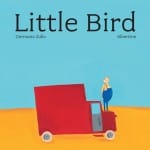 gold and red are reminiscent of western Canada, greatly charming this western Canadian. If not for Brooklyn-based publisher Enchanted Lion Books, Little Bird, originally published in French, may not have seen the light of day in North America. If you love beautiful picture books, start here, and start with Little Bird.
And now, in no particular order, the best of the best this year~