I will go on record and state, unequivocally, that meerkats are my favourite animal – of the undomesticated variety. I fell in love with these quirky critters in the last century, in a nature documentary, and as if often the case, my esteem for this observant little mongoose now encompasses a small collection of  meerkat-related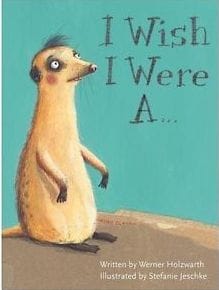 knick-knackery and various forms of printed matter, including the new picture book,  I Wish I Were a… by Werner Holzwarth and Stefanie Jeschke.
With their flat foreheads and bulging eyes, meerkats border on the homely, but my admiration stems not from their physical beauty, though they are achingly sweet-faced, but from a cluster of qualities that are equal parts socially ingenious and endearing. It is their personality, in other words, that makes them truly loveable. With all this going for them, who would have thought a meerkat could be insecure?