I am a dog person, and my attraction to those of the canine persuasion extends to my taste in picture books. Old dogs and pups, dogs in capes, stinky dogs, dogs who run curio museums, dogs named Plum, dog-like coyotes and wolves, and just plain old mutts; each in possession of some unique quality of dog captured and expressed by the best writers and illustrators around. I love 'em all, so why not run them in a pack? Gather all the reviews in one post, for my own amusement, yes, but also to provide a helpful list for fellow barkophiles in search of beautiful dog books. Of course, this is but a smattering of what is available, and there are still dog books on my shelves that have yet to make it to this blog, but for now I invite you to play ball with these titles, which are listed in no particular order. Click on the links for the original, and in most cases, much longer reviews.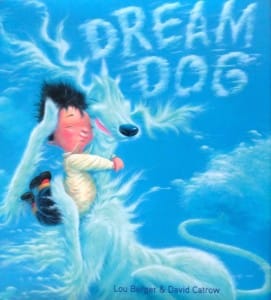 I want to start with DREAM DOG by Lou Berger, with illustrations by David Catrow. Dogs display an infinite range of emotions, and not just on their faces. From a wave of a tail to the swivel of an ear, dogs radiate emotion with their entire body. Not only has David Catrow mastered the art of dog expressiveness, together Berger and Catrow have captured the joy so many of us feel in the presence of a dog. Dream Dog is a wondrous, funny book, full of kid energy and soaring hearts (mostly my own).
Frustratingly dogless, Harry uses his X-35 Infra-Rocket Imagination Helmet to conjure up a dream dog because his father, sensitized by his work in a pepper factory, sneezes around real dogs. Harry's dog Waffle is big and friendly – an adorable mix of actual breeds and a boy's sweet imagination. Eventually, Harry's dad gets another job and buys Harry a real dog, who he names Bumper. All three become friends until one day Waffle races after a cloud and simply wafts away, "woofing happily" as Bumper and Harry play in the field below. Dream Dog will hit you in the feels in the best possible way.
Speaking of books that drive straight to the heart, I cannot say enough about the Zorro and Mister Bud series about two unlikely housemutts who have (so far) starred in three books: SAY HELLO TO ZORRO, ZORRO GETS AN OUTFIT, and MISTER BUD WEARS THE CONE. Carter Goodrich has not only created funny and exceedingly loveable characters, he has also imbued them with the full range of dog emotion, from joy to shame, without losing sight of their essential dogginess. The ample-snouted Mister Bud and his energetic roomie Zorro (a pug) have the sort of localized adventures familiar to most dogs (and their people) and it is in these otherwise 'normal' situations that Goodrich finds the extraordinary: the moments of emotional truth, the humour, the pathos, and the beautifully observant way he expresses the body language of dogs.
I am a huge fan of the work of British illustrator Emma Chichester Clark. However, I reserve my
most heartfelt and noisiest enthusiasm for Plumdog Blog, a semi-daily diary of human/dog, dog/dog interactions and adventures written from the perspective of her actual dog Plum. Recently published in book form as PLUMDOG, there are huge dollops of humour in this collection, as well as Emma's stunning watercolour illustrations. The assorted wanderings and musings documented in Plumdog have the spontaneity of a notebook, but even in its simplicity, and perhaps because of it, the effect is both evocative and deeply beautiful. As an Anglophile, Plumdog makes me yearn for the English countryside. As a dog lover, it just makes me smile.
If you've had a dog, at some point you've had a stinky dog. It's how they roll, so to speak. It may not seem like a thing to celebrate, but if you're a dog, smell is everything. Leave it to Catherine Rayner to find beauty in unlikely and rather dirty places, as she most certainly does in SMELLY LOUIE. I believe Louie would agree that Rayner has done a fantastic job celebrating the hard work and attention to detail that goes into the creation of a dog's 'special smell' – and how heartbreakingly vulnerable that smell is to a bubble bath. Smelly Louie is an amusing tale that makes stink a beautiful, and maybe even admirable thing.
TIME FOR BED, FRED! by Yasmin Ismail is about a young, playful dog who would rather jump
in a pile of flowers than go to bed. With simple, repetitive phrases, the book is aimed at younger audiences, but the art can be drooled over by all. Bold, beautiful strokes of line and colour give the book a retro appeal, and the story is itself is great fun.
Some dogs like to frolic in flowers, others travel the world and run museums. In Zack Rock's inventive and wonderfully amusing  HOMER HENRY HUDSON'S CURIO MUSEUM, Homer Henry, a bulldog and 'eccentric explorer extraordinaire', is the curator of an over-stuffed, Victorian-esque museum, full of mysterious items and mementos from his lifelong adventures. Homer Henry Hudson's Curio Museum is a book of discovery, revealing itself upon multiple reads. Even the heavily detailed illustrations hold secrets, and every gorgeous page is a thing of wonder.
THE RALPH STEADMAN BOOK OF DOGS is just plain fun. Not for young children, and not even a true picture book, but like the rest of the authors and illustrators in this post, Ralph sees dogs as creatures worthy of celebration – the good, and the downright nasty. It's all fodder for his brilliant, beautiful art. At no point in this book, or in any of his books, does sentimentality play a role, but at the same time, his illustrations of dogs are funny, idiosyncratic, empathetic, fantastically inventive, and deeply, deeply pleasurable.
Not all dogs get starring roles in the books on this list. In Harriet Ziefert's MY DOG THINKS I'M A GENIUS (illustrated by Barroux), the dog, Louie, is a secondary character. And though he may be an affable sidekick and resident art critic, the story itself is about a boy's artistic explorations. As one would imagine in a book about the creative process, the art is magnificent. My Dog Thinks I'm a Genius slyly suggests that no matter what you do, there will always be someone who does it better, and sometimes it's your dog. In the end, however, all that really matters is that you love what you do.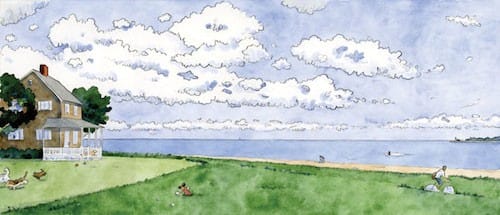 At the other end of the sentimentality scale is HOMER by Elisha Cooper. This sweet and very touching tale is the story of an old dog; a dog who is winding down, but still passively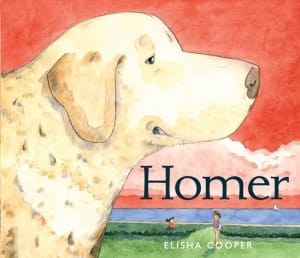 participating in life as experienced from the sun-drenched porch of his family's holiday cottage. I love the stillness of Homer amidst the joyful chaos of his home. He is the quiet centre, appreciated and attended to by the human members of family, especially the children, while he in turn exudes a kind of companionable peacefulness. The watercolours are soft and impressionistic, telling Homer's story simply, and beautifully. So often in children's books, old age is treated as a preamble to death, not as stand alone subject with its own unique qualities and experiences. Old dogs can be old dogs for a long time, and it's wonderful to have a story that reminds us of that.
In a similar vein, OLD COYOTE by Nancy Wood, with illustrations by Max Grafe is a story about an aging dog, and yeah I know coyotes aren't dogs, but close enough. This is one of the most beautiful books in my collection, and unlike Homer it is about death, but the coyote's passing is handled with great gentleness. Still, revisiting the book made me cry all over again – but it's a good sad – if such a thing is possible. Old Coyote has lived a long life, and had many children. He is ready to say goodbye, even if we aren't. Grafe's illustrations of the desert are absolutely stunning, infused with the gold and terracotta colours of the south. It is, however, his depiction of the old coyote that will catch your breath. Especially his wise, old eyes.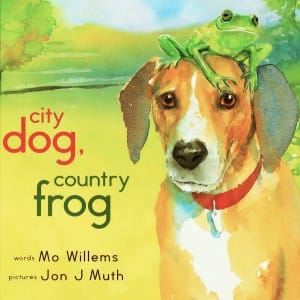 "I am a tired frog. Maybe we can play remember-ing games,", or so says the frog in
CITY DOG, COUNTRY FROG
(Mo Willems/Jon Muth), a book that also tackles death, but not as the central focus of the story (and it's not the dog this time).
City Dog, Country Frog
is about unlikely friendships – and the seasons of life. A lively city dog strikes up a friendship with a country frog one spring – a friendship which thrives until winter, when the frog reaches the end of his natural life. Together, they enjoy the unique gifts of each season, but once spring rolls around again, so does the circle of life, and city dog finds a new friend.
City Dog, Country Frog
is very much a book that celebrates the present, and the idea that life goes on. Jon Muth keeps the story bright with his light-filled watercolours.
THING-THING
by Cary Fagan, illustrated by Nicholas Debon. OK, if you don't know Thing-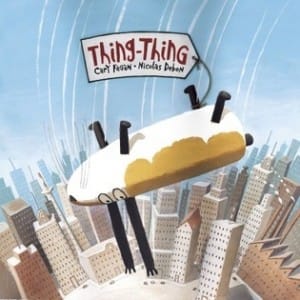 Thing, you
must
get to know Thing-Thing. Not only is this book laugh out loud funny, the concept is brilliant. An over-indulged brat throws his new toy Thing-Thing, 'who was not quite a bunny rabbit, but not quite a dog either, nor a bear, or cat for that matter' out of the window, much to his parent's exasperation. For our purposes, Thing-Thing is a dog, and as the dog falls to the ground, we are privy to his thoughts. As the scenery rushes by, Thing-Thing notices all sorts of things, including the bluest robin's egg he has ever seen. Happily, he lands in the arms of a child who truly loves Thing-Thing. The writing is witty (in a Douglas Adams sort of way), and the quirky art is sweet perfection.
Again drawing from the
not-quite-a-dog
genre, I give my highest accolades to Nadine Brun-Cosme and Olivier Tallec for their trilogy of books starring a pair of wolves:
Big Wolf and Little Wolf
(not reviewed),
BIG WOLF AND LITTLE WOLF AND THE LITTLE LEAVE THAT WOULDN'T FALL
, and
BIG WOLF AND LITTLE WOLF – SUCH A BIG ORANGE.
These books epitomize why I have such a passion for picture books. They also challenge my storehouse of superlatives. Is it enough to say that each book is a work of art, or that the writing is imaginative and a little strange, and by the end of the series, gloriously uplifting? And how about those wolves? Who draws like that? These books are musts for anyone who loves dogs (I mean, wolves), and in particular, beautiful picture books that have cross-generational appeal.
Lastly, a book that encompasses not only dogs, but animals in general. Yes, I am a dog person, but I am also a cat person, and a critters-of-all-types person. GUARDIANS OF BEING  by Eckhart Tolle is illustrated by one of my all-time faves, Mutts cartoonist Patrick McDonnell. Guardians of Being pretty much sums up the role animals play in my life, especially dogs, but is not limited to them. It is a celebration of the spiritual gifts our animal companions bestow upon us. It is Zen with furballs and slobber. Like all the books on this list, it is perfection.
That's it for now, but there will be more dog books to come, I assure you. I can already hear a few barking on my shelf.
And now, my constant inspiration and favourite doggy face of all time…Maggie