The title of Jonathan Emmett and Poly Bernatene's new book Here Be Monsters is a play on Here Be Dragons, an admonishment printed in the corners of medieval maps to prevent seafaring types from wandering into uncharted territory. Ascribing evil to the unknown is common enough even today, but back then, it seemed reasonable to personify fear as a fire-breathing dragon. We now know these fears were unfounded. There are no dragons, no monsters. Good news if you're a pirate, and an island of giant gemstones lay concealed in the murky mist of a faraway, uncharted land. Here be monsters, indeed.
Captain Cut-Throat is the 'meanest mariner to sail the Seven Seas', guilty of 'countless crimes of downright dastardliness and despicable dishonesty', or so the Wanted Dead or Alive poster tells us. The peg-legged, pointy-nosed fox leads a crew of equally unsavoury characters, all of whom are wanted for various crimes, including 'mean misconduct and monstrous mischief' (Blue-Bottomed Bart, a mandrill), and 'reprehensible rudeness and repulsive roguery' (Quilly Von Squint, a raven), among other alliterative (and hilarious) misdeeds. As befitting a pirate of the highest order, Captain Cut-Throat likes treasure. Loves it in fact, refusing to heed his crew's misgivings as he sets sail for the mysterious island of gems. Calm seas prevail until the ship enters the mist, where strange noises can be heard. One after the other, the crew plead with the captain, only to be plucked off the ship in spectacular fashion by, in turn, a giant, teeth-baring parrot and a multi-eyed serpent. Thinking his 'yellow-bellied' crew have abandoned ship, the captain remains steadfast in his goal, oblivious to what actually transpired on his ship. The bejeweled island emerges out of the mist, and Captain Cut-Throat greedily sets paw and peg on land to claim his reward. And he gets it. Boy, does he get it. These gems don't just sparkle, they bite.
In word and in art, Emmett and Bernatene are perfect collaborators, or perhaps the word should be conspirators. As in The Santa Trap, the underlying theme in Here Be Monsters is greed, and in both books, greed is answered with deliciously appropriate punishment. The badly behaved do not fare well in Emmett's cleverly written stories, it's true, but the behaviours of the bad are given full, glorious exposure. Raucous rhymes, playful visuals, and great gobs of wicked humour make Here Be Monsters a wildly imaginative adventure. The road to ruin has never been so fun. Or sparkly.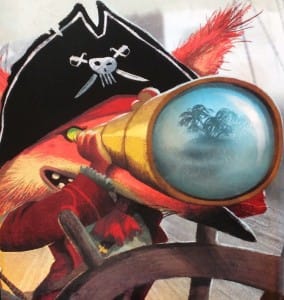 I have often described Poly Bernatene's lustrous illustrations as 'jewel-like.' From pirates to pigs, Bernatene is an exquisite colourist, creating deeply saturated canvases of eye-watering beauty. At first glance, the jumble of critters and backgrounds meld into a swirl of colourful candy. Upon closer inspection, eyeballs, snouts and teeth emerge, along with skull-cross hats, buckled boots, ropes, sails, and when the mist clears, monsters. Each page is a visual feast, even as the characters are feasted upon. The book provides no details regarding his choice of medium for Here Be Monsters, but in previous books, traditional and digital tools were combined in some magical way to create his illustrative masterpieces. And yet, while digital art can be flat, often intentionally so, Bernatene has found a way to give depth to his surfaces by playing with light and perspective, even making his brushstrokes visible (though this may be a digital illusion.) Here Be Monsters is a perfect canvas for this Argentinian artists' magical toolbox, and the result is treasure even Captain Cut-Throat could not imagine.
Jonathan Emmett was born in Leicestershire, England in 1965, the son of a factory fitter and primary school teacher. Emmett worked as an architect before realizing that children's books were his true calling. According to the blurb on the jacket flap, Mr Emmett is an internationally successful author who, like Captain Cut-Throat, '…enjoys hunting for treasure, shouting orders at other people, and ignoring sensible advice.' Unlike Captain Cut-Throat, however, he has 'never captained a pirate ship or been eaten as a dessert.' Good to know.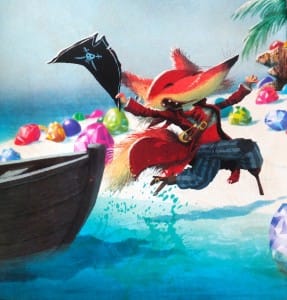 Poly Bernatene was born in Buenos Aires in 1972, where he graduated from the Buenos Aires School of Fine Art. He has worked in advertising, animation, and comic books, eventually establishing a prolific and very sparkly career in children's book illustration. He has more than 60 books in publication, but only one with pirates. Ahoy!
Bernatene was born in 1972, in Buenos Aires, Argentina where he graduated from the Buenos Aires Art School. He has worked in advertising, animation, and comic books, eventually establishing a highly prolific and rather daunting career in children's book illustration, with more than 60 books in publication. – See more at: http://32pages.ca/2013/04/14/indentity-crisis-in-the-pond/#sthash.HMuMNOGO.dpuf
HERE BE MONSTERS by Jonathan Emmett and Poly Bernatene. Published by MacMillan, 2013
More reviews (click on link):
The Santa Trap by Jonathan Emmett and Poly Bernatene, 2009
Ribbit! by Rodrigo Folgueira, with illustrations by Poly Bernatene, 2013
The Dead Family Diaz by P.J. Bracegirdle, with illustrations by Poly Bernadene, 2012
When Night Didn't Come by Poly Bernatene, 2010
And for continued HALLOWEEN pleasure, a few more monstrous reviews