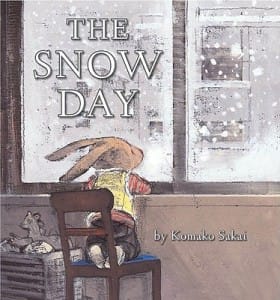 It's snowing.
It's been snowing for days. Weeks, actually. More than twice the average and closing in on a record set in 1974, with 35 cm last weekend and another 20 cm expected this week. It's also cold, bitterly and stubbornly cold. I love winter. Really, I do, and all this snow makes me feel like a kid. But as I wade through waist-high drifts on foot (boot, actually), and ride over the spine-rattling equivalent of moguls dimpling our city streets, the childlike wonder is fast giving way to adult exhaustion. Short of opening a Tauntaun and settling down for a long winter's gut-nap, there is no relief in sight, other than the great indoors. I need a snow day. Or maybe, I need The Snow Day by Komako Sakai.
The Snow Day is as simple and lovely as a snowfall. A little rabbit stays home from Kindergarten, which has been closed because of the snow. He (or she…it's not clear) makes snow dumplings on the balcony, plays cards with his mom, waits for his dad to return home from a storm-delayed trip, and rather plaintively watches the day pass into night from behind a window, wishing he could go outside and play. As the snow falls gently on the quiet city, the young rabbit makes the following statement:
"Mommy, we are all alone in the world."
Yes, we are, ultimately. However, this bunny-centric story is not leading us toward an existential discussion, but an appreciation of a city shut down by a storm. No cars, no people, just a mother bunny and her child, standing on a balcony wrapped in warm sweaters, watching snowflakes blanket their neighbourhood. I read something recently about the dearth of children's picture books with an urban setting. Well, here's one. And the family lives in an apartment on the third floor. The view out the window is another apartment across the street, a scene familiar to many but
not routinely represented in kids books. Nothing pastoral about The Snow Day, although it is strikingly beautiful. This is especially true in the final pages, when the snow stops, and the two escape to a local park for a romp in the freshly fallen snow. The simple painting of a black sky against the white snow, with just a bit of colour in the bundled clothing is stark and gorgeous. This is winter.
Japanese artist Komako Sakai, a former textile designer, paints in a very unusual way. Both dry and wet paint is applied to a black surface, resulting in highly textural, chalk-like illustrations. It's perfect for a cityscape in snow, allowing hints of the architectural details of the buildings to show through without being coldly realistic. This is not to say that there isn't some wonderful details in Sakai's paintings. I adore the illustration of the mother bunny zipping up her kid's snowsuit, his tiny mittens dangling on strings, presumably sewn there by his mother. There is a lot of love in this book. The little bunny is so sweetly painted, the poses and postures so beautifully observed and evocative of young human children, the rabbit theme seems irrelevant, as if the long ears might as well be a costume or a hat, rather than a physical attribute. Nevertheless, you can't go wrong with rabbits, and the fact that this is a family of bunnies living in a city is just another charming element in an entirely charming story.
The subdued palette has just the right amount of brightness, especially in the hits of yellow in the little rabbit's vest, his boots, and in the mother's gloves. An interesting feature of the interior scenes is that they exist within borders, while the exterior illustrations span both pages. It's an undeniable fact that winter can be isolating, and boring, especially if you're a little kid. And when you're young, and you are finally allowed to go outside and play in the snow, it is a joyful thing. This is true even if you're an adult, unless you have to shovel. Sakai has beautifully captured the quiet solitude of a winter storm, as well as the child-like wonder of it. Makes me want to go outside and make snow dumplings. But it's cold, and I think I'll make them out of dough instead. Inside. With a glass of wine.
Not a lot of biographical information about this extremely talented illustrator (and writer), but Ms Sakai has won
a number of awards for her work, and has published two previous publications, Emily's Balloon and Mad at Mommy. She lives in Japan. I wonder, does it snow where she lives? It must…
The Snow Day by Komako Sakai is published by Arthur A Levine, 2009  ISBN: 978-0545013215
(For a retro helping of snow, may I suggest the classic The Snowy Day by Ezra Jack Keats? Totally awesome.)