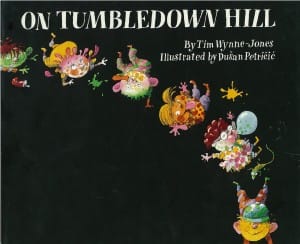 There are many obstacles on the way to my drafting table. As a result of a locally contained cosmic rip in the space-time continuum, unusually thick molecules have leached into the atmosphere, making the air almost impenetrable, effectively gluing my ass to the chair; movement of any sort nigh on impossible. The severe restrictions on mobility leave few options: reading, watching television, planning picnics with my cat.
 Also, you know the horror movie gimmick where someone is trying to escape a bogeyman and the approach to the door suddenly telescopes out, making the door unreachable?
There are days when my drafting table seems a million miles away, even though it's only a few feet from my chair. Artists face many challenges in their quest to put paintbrush to canvas, pen to paper, piss to copper Christ. It's just part of the landscape.
In Tim Wynne-Jone's On Tumbledown Hill, an artist is repeatedly thwarted in his efforts to paint plein air by 26 unruly monsters, who are, "much bigger than me and stronger, too, with arms that are longer and thicker through." The monsters, depicted as children, play and fight and wreak havoc with the painters ability to create. This is a GREAT excuse. Wish I'd thought of it.
I first encountered On Tumbledown Hill in the late nineties when I was a participant in the Canadian Children's Book Centre 'Our Choice' Picture Book Committee. My job was to read about a hundred Canadian picture books, meet regularly with my fellow committee members, and choose the best of the lot. Many of my opinions differed from the other committee members, who were teachers, and/or otherwise focused on children as the chief audience for these books. Ostensibly, I was there as a children's bookseller and buyer, and I did give my opinion about what I thought was broadly appealing and 'sellable', but my interest in picture books was (and is) far more mercenary. What did I find beautiful, or unusual, and what would I buy? Turns out, not much. But one book stood out amongst all the others. On Tumbledown Hill got a five star review from me, and from most of the other committee members. It's just that good.
Dušan Petričić, Yugoslavian by birth, is the illustrator of On Tumbledown Hill, and numerous other books and publications. In addition to the illustrations, which are as vibrant and colourful as sunlight through stained glass, Petričić is responsible for the overall design of the book, including the playful lettering featured on every page. On Tumbledown Hill is one of few books where the actual words are inseparable from the image, and every element from the illustrations to the text are a perfect, energetic match.
Tim Wynne-Jones has written a story "in twenty-six sentences…and every sentence is one word shorter than the sentence before." On the first page of the book, there are no pictures. On the second page, there is one small illustration of the painter and his faithful rabbit, Bun, running up Tumbledown Hill, easel in hand. As the words diminish the watercolour illustrations consume more of the page, and tell more of
the story. By the end, it's just illustration, and the 26 troublesome 'monsters' have been 'painted out of my head', and incorporated into the artists final painting. The reversal of story and illustration is very clever, and it's encouraging (if unlikely) to see an artist triumph over his demons, or monsters, or whatever is preventing him from exercising his talent.
Pick your distraction. They are legion. Of my particular set of obstacles, I will take Wynne-Jone's advice and paint my way through this little problem in the space-time continuum. Once I get out of my chair.
On Tumbledown Hill by Tim Wynne-Jones, with illustrations by Dušan Petričić. Red Deer Press, 1998