A few months ago, when I first saw an illustration from King Mouse, the new book by Cary Fagan and Dena Seiferling, I knew it would be one of the most beautiful books published this, or any year. With that one illustration of a tiny, pointy-nosed mouse wearing a crown, I was immediately transported to a miniature, magical world, deeply resonant of classic children's literature. Something about the delicacy of the line and the soothing gentleness of the story felt very old. I was, and am, in love with King Mouse.
It begins with a lost treasure.
A person, presumably a child, rides through a trail strewn with wildflowers, towing a wagon of crowns. Where is she going with her golden cargo? Several crowns fall off, and a mouse in search of a food finds one of these crowns, and places it on his head. Immediately he feels different – and special. A bear asks the mouse if he is a king, and after thinking about it for moment, the mouse answers yes. Soon, other forest dwellers arrive, offering their allegiance as well as a variety of gifts to the newly crowned King Mouse.
Eventually, the adulation grows tiresome and it doesn't take long for King Mouse to become bored – and then jealous, after a snake also finds a crown and the kingdom gains a queen. Uneasy lies the head that wears the crown, especially if you can no longer claim preeminence. Soon, others start finding crowns, and in one of the funnier moments of the book, all the animals parade around shouting "hail to me!"
But…one creature, the bear, has failed to find a crown. He walks away, slump shouldered, feeling terrible.
King Mouse notices, and it rouses him out of his narcissistic trance. This may be overstating it – King Mouse is a kid's book after all – but the creatures, once they don their crowns, become instantly focused on their heightened status. When the mouse is able to look beyond his own situation and notice someone who is in distress, it is profound and moving. Fagan and Seiferling bring great subtlety and sweetness to their storytelling, but it is never heavy-handed. The joy of this book is in the gentleness of it, but make no mistake, King Mouse is saying something about empathy – the ability, learned very young, to cast your paws into another creature's shoes (even if they aren't wearing any).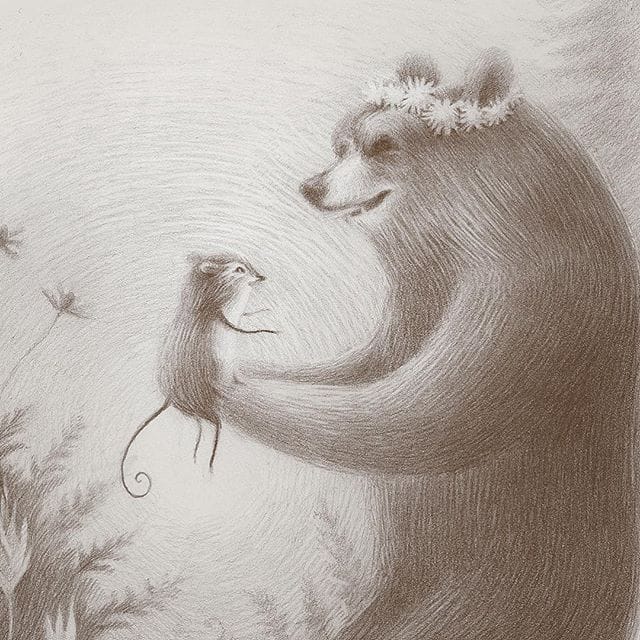 Seiferling's exquisite illustrations are a joy all their own. Though her style is distinct, I am reminded of Beatrix Potter, and more recently, Peter McCarty and Chris Van Allsburg, for reasons that have something to do with how she applies her illustrative marks to the page, but mostly for the sensitivity she brings to each character. Her creatures, and the forest that surrounds them, are carefully observed but imaginative renderings that are full of elegant, unforced charm.
Like the crowns that suddenly appear in the forest, King Mouse is a rare treasure. It's not easy to create a picture book this beautiful in a field rife with clunky, pandering efforts. And while Cary Fagan has written many wonderful children's books, including Thing Thing, previously reviewed in this blog, King Mouse is Dena Sieferling's first picture book. How can this be?
I first became acquainted with her work on Instagram, where she posts photos of her needle felting projects. This is a practice I've only recently discovered, by which I mean, I don't do it – I just appreciate the beauty and delicacy of this unusual art form.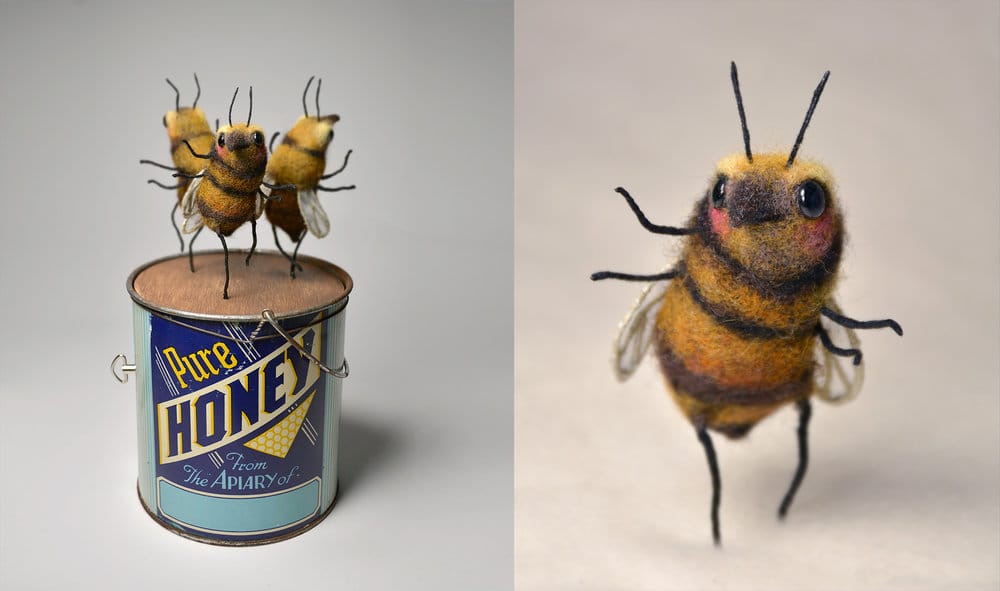 After graduating from the Alberta College of Art and Design, Seiferling kept busy with commercial projects, in addition to working as an instructor at ACAD. She particularly enjoyed the initial pencil sketches that would precede each finished project, which is why she now focuses on graphite as her primary medium for illustration, as seen in King Mouse.
Following the birth of her first child, Seiferling was looking for ways to "switch things up" and began to explore other mediums. I talked to her about this, and King Mouse, which is being released on September 24.
"It was a very magical time in my life, full of new experiences and dealing with many "unknowns," she says, from her home in Calgary, Alberta. "It brought back a longing for the imagination I had as a child, so I began something new – needle felted animal sculptures. I missed working with my hands (too much working on the computer!) so I was excited to evolve my drawings into three-dimensional, tactile forms – and from that point into many new directions including animation, puppets for film and gallery exhibitions. It has also greatly informed and influenced all of my illustration work, including the work that you see in King Mouse."
Can you describe the experience of having your first picture book out in the world?
It feels wonderful! As a child, I would spend hours getting lost in the stories I read, submerged in a world where anything is possible and anxieties of navigating through my youth were calmed with laughter, amusement and wonder. My Aunt Faye was a Teacher Librarian and would give me the best children's books for every occasion, books which I still covet today as an adult. The opportunity to illustrate a children's book feels like a way to give children that sense of wonder and magic I experienced, and I couldn't have asked for better way to start that with King Mouse. Serendipitous in timing and subject matter, it felt like the characters I developed were already there waiting to pair with Cary Fagan's story.
How did you get matched with Cary?
Tara Walker, VP and Publisher at Penguin Random House Canada Young Readers [publisher of Tundra Books], contacted me after seeing the work I promoted on Instagram, proposing that I illustrate a children's book. She happened to have a manuscript she thought might work well with my illustration style – Cary Fagan's King Mouse. It was a perfect match as the story inspired me right from the beginning!
What is your artistic process?
I start with many rough sketches which are then refined towards a final draft. The final artwork is graphite on cotton paper with colour added digitally in Photoshop. Sometimes I create three-dimensional versions of the characters that I'm developing in addition to my drawings.
Your quote, "I enjoy hybridizing hypothetical human and animal experiences, drawing parallels between the two, triggering empathy for animals as well as creating a connection to the viewer in a very personal way," very much gets to the heart of your illustrations and needle-felt work. Can you talk about that?
Foremost, I strive to create a connection between my characters and the audience through anthropomorphism. I realize that there is debate over whether anthropomorphizing animals is damaging or productive, but I think the positives win when the belief that animals have emotion and feelings similar to our own results in valuing and protecting them. Especially as we are losing animal species at astronomical rates. On another note, I think that by drawing ridiculously silly parallels from perceived scary animals to humans, there is a fear being addressed, an anxiety being eased and a tolerance being practised through empathy.
Have you always created art?
Well, the story goes that from the time I was two, I always had a pencil in hand! As I got older, observing character and capturing the underlying personality and soul of a subject is something that specifically gripped my imagination. I spent a lot of my free time drawing portraits during my elementary and high school years, then I would adorn my bedroom walls with the drawings. I was influenced by a mother who appreciates handmade objects with a historical context (antique collecting) and my father's zest for building anything he set his mind to (ranges from airplanes to fuzz pedals for electric guitars) and I think that because of this, I wasn't afraid to try my hand at making new things.
What's next for you?
I'm working on my largest body of sculpture work yet for a solo exhibition in May 2020 at the Corey Helford Gallery in Los Angeles. I will be posting more information about this on my Instagram profile as it progresses. I also just completed the illustration work for a book written by Helaine Becker, published by Owl Books, to be released in the fall of 2020 and soon I will begin working on a new children's book written by Cary Fagan, published by Tundra, to be released Spring 2021.
King Mouse by Cary Fagan with illustrations by Dena Seiferling is published by Tundra Books, 2019.
Read my review of Thing Thing by Cary Fagan here.
To purchase King Mouse in Edmonton, please contact The Prints and the Paper for this book and other personally curated and always amazing children's picture books.
Dena Seiferling:
Website: pickleandfrancois.com
Instagram: @pickleandfrancois