I am a dog person, and my attraction to those of the canine persuasion extends to my taste in picture books. Old dogs and pups, dogs in capes, stinky dogs, dogs who run curio museums, dogs named Plum, dog-like coyotes and wolves, and just plain old mutts; each in possession of some unique quality of dog captured and expressed by the best writers and illustrators around. I love 'em all, so why not run them in a pack? Gather all the reviews in one post, for my own amusement, yes, but also to provide a helpful list for fellow barkophiles in search of beautiful dog books. Of course, this is but a smattering of what is available, and there are still dog books on my shelves that have yet to make it to this blog, but for now I invite you to play ball with these titles, which are listed in no particular order. Click on the links for the original, and in most cases, much longer reviews.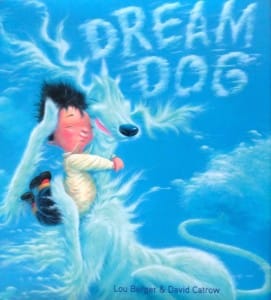 I want to start with DREAM DOG by Lou Berger, with illustrations by David Catrow. Dogs display an infinite range of emotions, and not just on their faces. From a wave of a tail to the swivel of an ear, dogs radiate emotion with their entire body. Not only has David Catrow mastered the art of dog expressiveness, together Berger and Catrow have captured the joy so many of us feel in the presence of a dog. Dream Dog is a wondrous, funny book, full of kid energy and soaring hearts (mostly my own).
Frustratingly dogless, Harry uses his X-35 Infra-Rocket Imagination Helmet to conjure up a dream dog because his father, sensitized by his work in a pepper factory, sneezes around real dogs. Harry's dog Waffle is big and friendly – an adorable mix of actual breeds and a boy's sweet imagination. Eventually, Harry's dad gets another job and buys Harry a real dog, who he names Bumper. All three become friends until one day Waffle races after a cloud and simply wafts away, "woofing happily" as Bumper and Harry play in the field below. Dream Dog will hit you in the feels in the best possible way.
Speaking of books that drive straight to the heart, I cannot say enough about the Zorro and Mister Bud series about two unlikely housemutts who have (so far) starred in three books: SAY HELLO TO ZORRO, ZORRO GETS AN OUTFIT, and MISTER BUD WEARS THE CONE. Carter Goodrich has not only created funny and exceedingly loveable characters, he has also imbued them with the full range of dog emotion, from joy to shame, without losing sight of their essential dogginess. The ample-snouted Mister Bud and his energetic roomie Zorro (a pug) have the sort of localized adventures familiar to most dogs (and their people) and it is in these otherwise 'normal' situations that Goodrich finds the extraordinary: the moments of emotional truth, the humour, the pathos, and the beautifully observant way he expresses the body language of dogs.