Great illustration does not have a nationality. It can be found anywhere, and this blog is an appreciation of, and a  testimony to, the pervasiveness of excellence. Illustrative genius may not be deep, but it is wide. Arguably, countries have a visual 'flavour', a stylistic predilection that shows up on the pages of picture books, but this can be difficult to identify without a thorough knowledge of its artists and writers, and anyway, who cares? Great art is great art. Nevertheless, as a Canadian, my heart thumps a little faster when I write about a homegrown picture book, and I have only scratched the surface of my country's artistic depth.
Perpetually engaged in defining itself, Canada is a country rich in cultural influences. Personally, I'm OK with a definition that includes William Shatner and Tim Horton's and excludes any comparison whatsoever tothatplacesouthofthe49thparallel, but others strive for something a little more, oh, I don't know, comprehensive. What I do know is that a good place to start is with the artists, and apropos to this blog, the illustrators.
To that end, and in celebration of CANADA DAY on July 1, otherwise known as our 146th birthday, I would like to commend and thank Mulidzas Curtis Wilson for the beautiful Haida-inspired Canadian flag which adorns this post, and, in no particular order, send out this love letter to the Canadian authors and illustrators reviewed in 32 Pages.
Standing high above all is THE BOOK: Picturing Canada: A History of Canadian Children's Illustrated Books and Publishing , or everything you've always wanted to know about picture books in Canada, but we're too reserved/passive/insecure to ask, eh? It's very, very good. You can tell by the moose and the beaver on the cover.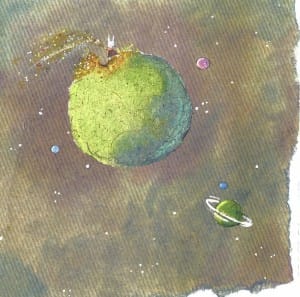 First lady of Canadian children's illustration, Marie-Louise Gay, is a Montreal based illustrator and writer. Her beautiful and exquisitely-coloured illustrations remind me of Lisbeth Zwerger, but with fewer diaphanous fabrics and more rabbits. I've reviewed two of her books (so far) Roslyn Rutabaga and the Biggest Hole on Earth and Caramba and Henry, with more to follow.
A 2011 finalist for Canada's highest honour, the Governor General's Award, Maxine Trottier's Migrant, with illustrations by Isabelle Arsenault, sweetly and heartbreakingly depicts the story of a Mennonite family who must migrate every year to Mexico to pick fruit. With due respect to our indigenous population, Canada is a country of immigrants, in the past, now, and presumably, in the future. This is one story of a thousand, distilled into the story of one.

The storytelling tradition in Canada is rich and vibrant. Tololwa Mollel, who hails from Tanzania but calls Edmonton home, exemplifies this tradition. The prolific writer has published many stories and folktales from his birthplace, including The Orphan Boy with stunning illustrations by Paul Morin, a Canadian from Montreal (by way of Calgary.) In words and art, it is truly one of the most beautiful books in my collection.
Like Migrant, Nicholas Debon's A Brave Soldier tells a sombre story of Canada, but
does so with great depth and powerful illustration. Remembrance Day has always been the most meaningful 'holiday' of the year for me; a day of quiet reflection where, as a nation, we think about poppy-strewn fields in faraway places like Flanders and Vimy Ridge, where a single soldier's story is the story of an entire war.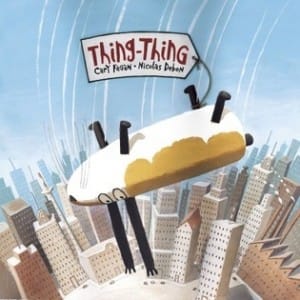 Also by Nicholas Debon, but much lighter and funnier is Thing-Thing, written by Cary Fagan, an award winning Toronto author. A thing, something, a thing-thing, falls from a window, and rather than contemplate his unfortunate fate, provides amusing commentary on his way down to the ground. Don't worry, Thing-Thing finds a thing just before hitting…you know, the thing.
Another well-known illustrator, Dusan Petričić, collaborates with an equally renowned author, Tim Wynne-Jones, for the rollicking On Tumbledown Hill An artist, in the company of his rabbit, Bun, attempts to paint plein air, with little success. Petričić has illustrated children's books for none other than Margaret Atwood, which may show up in this blog at some point, but for now it's all about Mr Wynne-Jones and Bun.
If it wasn't for this blog (and Groundwood Press), I don't know that I would have found Harvey by Hervé Bouchard, with spare, incredibly moving illustrations by Governor General Award winner illustrator Janice Nadeau. Often inexplicably shelved in the graphic novel section in bookstore (although to be frank I'm not sure where else it should go), Harvey is the story of a young boy obsessed with the The Incredible Shrinking Man, and the recent death of his father. It is without a doubt one of the most unusual books I've come across, and one that will stay with me for a very, very long time.
Winner of the 2011 Governor General's Award for Illustration, Ten Birds by Cybele Young is a particularly beautiful picture book rendered entirely in pen & ink, my favourite medium. If you've ever wondered what the acronym K.I.S.S. stands for, this is
the book for you. If you've ever wondered how to cross a river, this is also the book for you. And if you love gorgeous illustrations of birds, and Rube Goldberg-like contraptions, this is REALLY the book for you.
Jon Klassen. Jon Klassen, people! The most celebrated illustrator of the moment. The most celebrated Canadian illustrator of the moment. This Winnipeg-born artist has carved out a unique place in the world of illustration with a style that is retro in its simplicity and minimalist colour, but wonderfully out there in humour. Klassen is droll, at times hilarious, and always entertaining. I love his stuff, all of his stuff, and I'm so proud to share
citizenship, and a whole lotta bookshelf space with this brilliant and deeply twisted artist. I've got a real soft-spot for I Want My Hat Back, followed by This Is Not My Hat (winner of the 2012 Caldecott Medal), The Dark (written by Lemony Snicket), and House Held Up by Trees (written by Ted Kooser.) Mr Klassen, I doff my hat to you.

Another brilliant illustrator doing things on paper I've not seen before is Frank Viva. Both Along a Long Road, and the recently published, A Long Way Away, were created as continuous 26 ft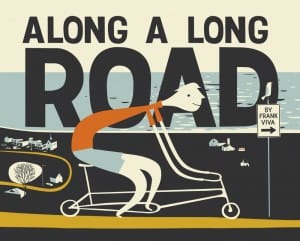 works of art. In the case of A Long Way Away, the alien's arrival can also be read as his departure, depending on where you start. It's a two-way Long Way Away. Along a Long Road is a cycling tour through a city and surrounding country side, by way of an odd-looking fellow on an odd-looking bike. The graphic, computer-generated illustrations are ridiculously appealing.

Christmas is never far from our minds in Canada, surrounded as we are by pine and fir trees, and the ubiquitous snow, which falls seven, sometimes eight months of the year, depending on where you live (yeah, I know Vancouver, not you…sigh.) Fellow Albertan Renata Liwska has illustrated one of the loveliest books of seasonal celebration, The Christmas Quiet Book with words by
Deborah Underwood. It's as sweet as a sugar cookie (with sprinkles.) Bella's Tree by Janet Russell, with wintry illustrations by Jirina Marton, is a bird and berry-laden tale from Newfoundland. Sombre in tone, but truly engaging, like an old folk-tale told while roasting chestnuts over an open fire. Not that we have chestnuts in my neck of the woods. And open fires are discouraged. Rounding out this festive list, A Coyote Solstice, written by one of my all-time favourite authors, Tom King (with
illustrations by Gary Clement.) A little girl in reindeer antlers introduces Coyote to the pleasures and perils of the mall at Christmastime. I live in a city with one of the largest malls in the world, and I can attest that it is all peril, and no pleasure.

Two books I wish were Canadian, and should be Canadian, but alas, are not Canadian, are Brenda Guiberson's Frog Song and Life in the Boreal Forest, both illustrated by the great Russian illustrator Gennady Spirin. Each book features a page on
Canadian wildlife and froggery, but are international in scope. Nevertheless, they feel Canadian, especially Life in the Boreal Forest, which is just spectacular. Do not fear, however, our local flora and fauna is beautifully profiled in Autumn Bear by Diane Culling, with illustrations by Cindy Vincent. You simply cannot have a list of books about Canada without mentioning bears. Just ask Jon Klassen.
That's it so far, with many, many more to come. Stay tuned, eh?
HAPPY CANADA DAY!