This blog is exclusively for the review of new and older picture books, and yet I feel compelled to comment on an article I read a few weeks ago on the interwebs. It's not for lack of opinions on other topics, but the findings in this study seemed contrary to my observations as a former bookseller and as a long-time collector of picture books. One proviso: I am fairly focused in my picture book predilections. It's all about the illustration, in other words, although to be fair, great writing usually goes hand in hand with great art. Also, up to this point I had not made particular note of setting, at least within a sociological context. As a result, there is a lot of stuff I simply don't see, because the visuals of most books do not resonate (for me.) It is therefore possible, and perhaps probable, that I've missed patterns and trends in my multi-national, multi-genre search for illustration excellence. Trust me, it wouldn't be the first time a trend has passed me by…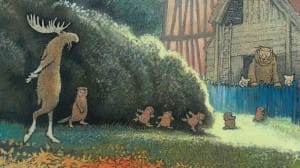 The article in question refers to a study by a group of researchers led by University of Nebraska-Lincoln sociologist J. Allen Williams Jr suggesting that the depiction of nature in picture books has dwindled by half since 1960. The team, "…evaluated the images found in the American Library Association's Caldecott Medal-winning children's picture books between 1938 through 2008. They looked at more than 8,000 images in almost 300 books, noting whether they showed natural settings, human-made environments, or something in between (like a playground). Initially, natural and built environments were equally represented, but beginning in the 1960s, depictions of natural settings began a steady decline. By 2008, images of human-made environments showed up in books twice as often as those depicting nature scenes."*
Really?
Jenn Savedge's response to the report in a Canadian online journal Parentcentral.ca states that while Americans (arguably) may be turning their backs on nature, Canadians are upholding their reputations as steadfastly beaver-centric. Our literature is rife with people and stories shaped by landscape, and by 'landscape' I mean vast tracts of wind-swept, rain-soaked, snow-covered prairie/mountain/forest/tundra/sea-scape. Nature, in all its abundance and fragile beauty, as well as its gut-wrenching tragedy (like the April snowstorm outside my window) is a national preoccupation, and it's no wonder that images of plants and animals appear frequently in our picture books. Indeed, our coinage, lovingly emblazoned with the Queen on one side, is backed by the equally lovely elk, loon, bear, maple leaf, and of course, the beaver, on the other. And we like it that way, eh.
As Savedge notes, this group of researchers looked at the last 30 years of Caldecott winners, which is an American award. A quick review of the equivalent Canadian honour, the Governor General's Award, suggests a different, perhaps slower urbanization of Canadian picture books, mirroring the research done by Judith Saltman (and Gail Edwards) in their book Picturing Canada: A History of Canadian Children's Illustrated Books and Publishing. Says Saltman:
"We still hunger to reflect our entire landscape, including the unlived wilderness, a sense of the north."
Following this line of thought, it perhaps should come as no surprise that the 2011 Governor General's Award winner for illustration was given to Cybele Young for Ten Birds, a gorgeous collection of avian artistry (albeit juxtaposed against the backdrop of a man-made bridge.) It's worth noting however, that one of the finalists, Frank Viva's Along a Long Road, is distinctly urban and equally stunning. No birds, but lots of biking and fresh air.
Perhaps it is because I'm Canadian, which may or may not influence the kind of illustration (and doughnut) I gravitate toward, but in my experience, urban settings in children's picture books are the rarity. In a quick survey of the books I've reviewed in the two-year existence of this blog, the majority favour a natural setting over a cityscape. Indeed, all of my reviews in 2012 thus far, with the exception of the Collector of Moments, are set in the great outdoors, and two (oddly enough) have
pigs as main characters. Of course, just having an animal as the main character is not necessarily indicative of a rural-based setting. In the wonderful world of anthropomorphization, all things are possible. Just ask the pigeon (driving the bus.)
Other titles, like the delightful Big Wolf Little Wolf trilogy by Nadine Brun-Cosme and Olivier Tallec, incorporate both urban and rural settings into the mix, but with the first two, Big Wolf & Little Wolf and Big Wolf & Little Wolf-The Little Leaf That Wouldn't Fall, most of the action takes place under a huge tree on a hill. It is only in the third and final book, Big Wolf & Little Wolf-Such a Beautiful Orange that the context is revealed; this bucolic parkette is smack in the middle of a bustling city. Similarly, Peter Brown's The Curious Garden 'greens up' an urban setting with plants and flowers gloriously overtaking a block of buildings within a high-density neighbourhood.
In the case of Komako Sakai's Snow Day, its not green but white that transforms the city, but nevertheless, it is unapologetically urban. Indeed, the apartment-dwelling characters in Snow Day-a living arrangement familiar to many, seemed so remarkable to me that I commented on its lack of representation in picture books. Not long after I published this review I was contacted by Storied Cities-a blog that seeks out urban-based children's books, presumably because there are so few. Urban settings, at least in my experience, are rare enough that they stand out from the slew of tree and fur-based books.
William Joyce frequently uses domestic, suburbanized landscapes as the backdrop for his cinematic picture books, like Dinosaur Bob and A Day With Wilbur Robinson, and yet his most recent-The Man in the Moon, is not so much urban as lunar. Lane Smith, another illustrator who brilliantly balances 'outdoor' with 'indoor' subject matter, recently published Grandpa Green, a book that celebrates (among other things) gardening. The just released House Held Up By Trees by Ted Kooser and Jon Klassen is both a wistful recollection of a happy
childhood spent among the woods, and a humourous statement on the persistence of nature. Klassen's last book, I Want My Hat Back is bear-based, but his Governor General's Award-winning Cats' Night Out is clearly urban. Patrick McDonnell, the great illustrator/cartoonist, is most definitely a nature boy, as evidenced by his Caldecott Honour book, Me…Jane and the beautiful migration story South, but his Mooch and Earl stories are anchored by scenes of cozy domesticity. I could go on, but my point is that what I see is a skew toward the naturalistic, and when books are set in the city, or have some sort of 'built environment' (even if pig-built), they not only stand out, but most in some way or another are about connecting to nature.
The research has merit, at least in the sense that books, to a greater or lesser degree, reflect the contemporary experience of children, whatever the era. However, I would argue that the transition from cloth to electronic is a far greater reflection of our current times than the dearth of bears and grass in picture books. Nevertheless, it's certainly another interesting element to consider. In the world beyond picture books (yes, it exists), I have noticed over the years that the ravine close to where I live (in the middle of the city) is virtually empty of children, unless one or two sneak in (accompanied by tight-gripped, adult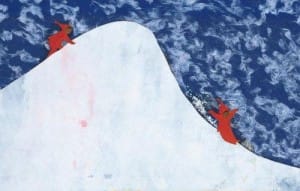 supervision, of course.) When I was a kid, I would have been all over the woods and creek beds, by myself or with my friends of my own age. Maybe we're losing the battle, but picture books continue to be a rich and plentiful connection to the natural (if slightly anthropomorphized) world.
*excerpt from Parentcentral.ca