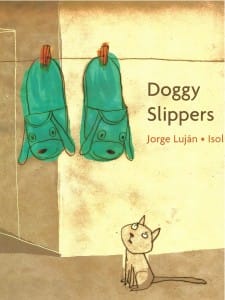 Interesting idea for a book. Award winning Argentinian poet Jorge Luján canvased children throughout Latin America, via the internet, enquiring about their pets, which included everything from dogs to a poetry-hating marmot. He then 'shaped the children's thoughts and feelings' into this collection of absolutely delightful poems, which read like humourous little glimpses into the lives and minds of children. It's not all frogs, and snails and puppy-dog tails, there's some sugar and spice too, but Doggy Slippers is quite simply, a joy. It almost makes me wish I had kids.
Children have a freshness of thought and an unfiltered honesty which makes them a hit at parties and occasionally, and embarrassment at the dinner table, but as evidenced in Doggy Slippers, children are natural poets, especially when it comes to expressions of the heart, and the love of a good monkey.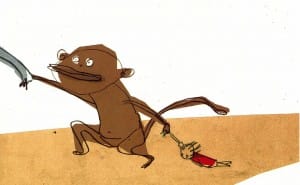 'Shall I compare thee to a summers day', or 'Once upon a midnight dreary" are examples of some very fine poetry indeed, but consider this short poem from Doggy Slippers:
My monkey and I are exactly alike
except our hands and feet,
our hair,
our bodies,
our mouths,
our clothes,
and that I don't stink
If Dickenson or Rilke had included 'And that I don't stink' in one of their poems, I would be more inclined to curl up with a book of poetry, rather than a novel, or a picture book.
The poems in Doggy Slippers are sweet without being cloying. Luján has done a masterful job of selecting the most touching passages and anecdotes, and 'shaping' the words into an evocative and engaging collection of verse. Most adults might describe their dog as 'cute', or 'he thinks he's people', but this poem truly captures the essence of a meticulously well-observed and well-loved dog:
If it doesn't have a vacuum mouth
or a vacuum nose
or leaf ears
or a sofa back
or firecracker feet
or little footprints
or a parrot voice that repeats everything,
then it can't be my dog.
The 'vacuum mouth' might also describe my cat (and my cat's owner), but that's another story, or poem. In fact, there is a cat poem in Doggy Slippers, although it's more of a cat haiku:
Life is good.
Kitty makes it better
when things go wrong.
Indeed.
Marisol Misenta, known professionally as Isol, was born in Buenos Aires in 1972. An illustrator and author of many internationally lauded children's books, only recently has Isol popped up on the North American radar screen. I first became aware of her splendid work in Under the Spell of the Moon: Art for Children from the World's Great Illustrators, published in 2004. She was a finalist in 2006 and 2007 for the Hans Christian Andersen Prize, and has published a number of books that have been translated into English, including, most recently, Petit, the Monster, a book that like Doggy Slippers, addresses the complexities of a child's emotional life with humour and empathy, accompanied by gorgeous, child-like art.
The illustrations in Doggy Slippers (and indeed, all of her books) are very striking, reminiscent of 50's magazine and animation art, with sketchy background images and off-centre overlays of vibrant colour. Doggy Slippers is unlike anything else on the bookstore shelves right now, and the eye candy begins right on the cover, with a very juicy hit of teal-green against an earth tone palette prevalent throughout the rest of the book. As opposed to actual paintings, the illustrations are drawn in a loose and scribbled fashion, very much like a kids crayon drawing stuck to a fridge door. But, of course, in the exceptionally talented hands of Isol, these 'scribbles' are a witty, visual interpretation of a child's thoughts and feelings, and as such, they are beautiful, and dead on perfect for this book.
Doggy Slippers is an inspired collaboration between Jorge Luján, Isol and the dog, rabbit, and marmot-owning children of Latin America. It's a fun and surprisingly moving picture book, right out of the mouths of bebés.
Doggy Slippers by Jorge Luján and illustrated by Isol, published by Groundwood Books, 2010  ISBN:978-0888999832
Petit, the Monster by Isol, published by Groundwood Books, 2009   ISBN: 978-0888999474
Under the Spell of the Moon, published by Groundwood Books, 2004 ISBN: 0888995598