I  am currently living with a cat and a dog. I love my cat, but it's hard to read her emotions. Her expression rarely changes, even as the claws come out. She's an action cat. Not much of a feeler. The dog, on the other hand, registers every emotion from joy to deep existential pain. It's true that most of her emotional life revolves around food, and the procurement thereof, but whatever she's feeling, we know it, from the direction and flaccidity of her ears, to the raised eyebrows, ear-cracking barks, and most especially, the world-weary sigh of a wish unfufilled. As my nieces would say, she's an EMO. All dogs are EMO, including Zorro, star of the new book by Carter Goodrich, Zorro Gets an Outfit.
In the first book of the series, Say Hello to Zorro, it was Mister Bud who suffers an indignity when a rambunctious pug named Zorro enters his life, wreaking havoc on his meticulously scheduled existence. In Zorro Gets an Outfit, the tables are reversed, and it is the pug who must learn to adapt. Of course, when your name is Zorro, it is inevitable that you will, at some point, sport a cape…
Carter Goodrich is a master of expression. While his watercolour illustrations are far from realistic (delightfully
so), he is able to capture great emotional depth in his canines, from the sorrowful slope of Zorro's shoulders as he dons a cape for the first time, to the teeth-bearing joy of Mister Bud caught mid-chew. It's easy to feel for these doggies, especially Zorro, victim of that odd human predilection for playing dress-up with our pets. Adding insult to injury, Zorro's amply-snouted older sibling, Mister Bud, has somehow escaped this most humiliating of fates. Could it get any worse?
At first, Zorro is too ashamed to leave the house, and when he finally steps out of the door, the other dogs in the neighbourhood make fun of him. Mister Bud does his best to cheer Zorro up, sharing his sticks and daring him to take a run at Slim, the local cat, but it is too much for the pug. Mortified, Zorro slumps down in the grass, the blue cape draped over his body like a shroud while Mister Bud gives in to his passion. As we learned in Say Hello to Zorro, nothing and no one interferes chew-on-a-stick time. Dogs are dogs after all, and sticks are sticks.
While still at the park, a whip-fast white terrier leaps by in a
striped shirt and neckerchief. Zorro is intrigued by the dog's speed and trick prowess, but it's his sartorial confidence that truly impresses the pug. Perhaps…just perhaps, his cape isn't so bad after all. In life and in dog parks, when we are at our most vulnerable, sometimes all it takes is another person (or dog) to show us the way.
As previously confessed in my Say Hello To Zorro post, I am a huge fan of Carter Goodrich. Initially, it was his brilliant editorial work for the New Yorker and other magazines that caught my eye, but as a children's picture book author and illustrator, he is quickly establishing himself at the top of my considerable heap. It takes a lot of skill to bring an emotional authenticity to the anthropomorphized,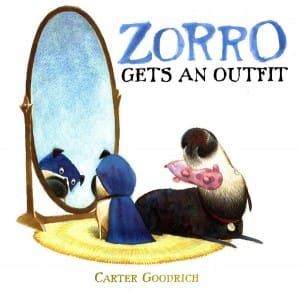 and even more to produce illustrations that are beautifully executed and full of humour. A two-time Society of Illustrators gold medal winner, Goodrich was the lead character designer for Despicable Me, and has also created character designs for Brave, Finding Nemo, Monster's Inc., and Ratatouille. Carter Goodrich is a graduate of the Rhode Island School of Design.
 Zorro Gets and Outfit by Carter Goodrich. Published by Simon & Schuster, 2012
Say Hello to Zorro by Carter Goodrich. Published by Simon & Schuster, 2011