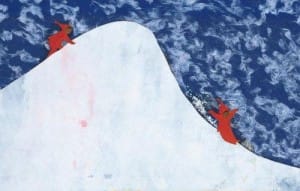 OK. I've been slack in the review department, and I promise that once things calm down in my life (moving), and as of the two days ago, my mouth (stupid tooth), I will ramp up the output on my little blog. Until then, please enjoy these lovely confections from the WWWeberville~ 
 From the New York Times, an all-time favourite:
The Snowy Day
Celebrates 50 Years. What's not to love about this sweet, and highly influential little book about the pleasures of winter precipitation?
Another great interview from the impossibly good Seven Impossible Things Before Breakfast~this time with with author/illustrator
Jon Klassen
(Cat's Night Out, I Want My Hat Back.) Note: I will be reviewing
I Want My Hat Back
in September.
The London riots-Victorian style~thanks to
The Age of Uncertainty
blog for consistently bringing the funny to antiquarian bookselling.
Via Brainpicker~NPR's
Top 100 Sci-Fi, Fantasy Books
 Great list, and suprisingly I've read quite a few of them, but where's
EIFELHEIM
 by Michael Flynn? It's quite possibly the best book I've read in the last five years, and I would not call myself a major Sci Fi reader. However, I do like books set in Germany, especially medieval Germany. The aliens are just a bonus. 
Another great post from the New York Times: And a Frog Shall Lead Them: The legacy of
Jim Henson
. At the risk of aging myself, anyone remember the great muppets TV movie from the 70's called
The Frog Prince
? I still recall the line
'Break the ball in the handle of her cane!
', and the song,
'Sweetums lay your ugly head, down upon your wretched bed'  (
I've been known to sing that to my cat on occasion
.)
Wonderful show, and I wish it would be released in a remastered DVD.
Rename your favorite classics, via the
Better Book Titles
blog! This sort of thing is always good for a laugh.
Fingers crossed, the next post will be that promised Dutch treat. And it is a treat!