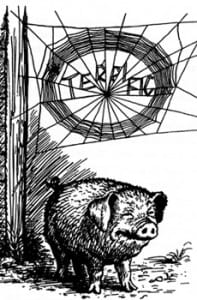 Oh, the dog days of summer, which for me translates into a whiny sort of sluggishness precluding any activity more strenous than hoisting fruity beverages to my mouth and bending over to turn the fan onto maximum velocity. My heat-induced indolence is compounded by the fact that I am moving at the end of the month, so my posts have become sparse as I attempt to pack away decades worth of bibliophyllic overconsumption. Sure, they look pretty on the shelves, but they are a bitch to pack, and you might as well take out shares in Boxes-R-Us for all the stacks of neatly-packed product lining my hallways. Nevertheless, I do seem to find the time to check in with my favourite Twitter-folk and fellow bloggerists, and here are a few gems from the last couple of weeks~      
The Story of Charlotte's Web by Michael Sims – review via @guardian. This sounds like a very interesting book, about an interesting man, and some pig. Can't wait to read it! And speaking of Wilbur, I might have mentioned in a previous post one of my favourite passages about this beloved porker. It's early in the book and Wilbur is explaining to Templeton his typical day, but it seems to me that Wilbur is practicing a kind of philosophy of life that sounds less porcine and more Zen. The procurement of food (middlings, warm water, apple parings, meat gravy, etc.,) and naps plays a significant role in Wilbur's daily routine, but so does stillness, and allocating time to watch "flies on the boards, watch bees in the clover, and watch swallows in the air…and to think about "what it was like to be alive…" I aspire to live my life according to the Tao of Wilbur, minus the 'middlings', whatever they are.
From Brainpickings~Letters to children by 1970s icons – Isaac Asimov, Neil Armstrong, Dr. Seuss – on the love of libraries. Also from Brainpickings ☞ How to own a Warhol for $5 – Andy Warhol's obscure 1959 children's book . Awfully traditional work for the man who made Campbell's soup cans famous.
George Saunders , one of favourite writers…lists his favorite children's books. Missing from the list…one of  my favourite children's books by one of my favourite writers~The Very Persistent Gappers of Frip
Absolutely fascinating! Jon Sarkin: The man who couldn't stop drawing via the Guardian. A little shout-out to the Guardian: since I've made the Great Leap Forward to Twitter, I have become enamoured with this British newspaper. It's unfailing devotion to cultural issues, and in particular children's literature is rather inspiring, and unusual. Much appreciated, Guardian.
Happy 4th birthday to the wonderful 50 Watts blog! Here's a typical (and fabulous) post from the atypical blogger: Vintage Estonian Book Covers 
From Betsy Bird (Fuse 8) at the School Library Journal, New Yorker covers by children's illustrators. Love the stuff inside the New Yorker, but I buy it for the outside. Also from Fuse 8~Quoth the Raven
Via @ptak, a fascinating Wired article: Caricature and facial recognition.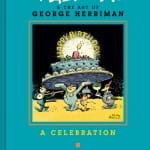 And again from Ptak (via Boing Boing): A good argument for why Krazy Kat's George Herriman is the best cartoonist of all time. I'll take it under advisement, but as any reader of this blog will know, I'm all about Patrick McDonnell, who coincidentally, is all about George Herriman.
  Next post: a Dutch treat, and I don't mean Rutger Hauer, though he is a treat.