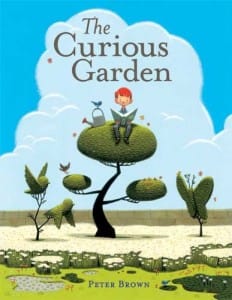 There are many things I love: picture books, walking, weevils, ketchup, Hoarders (the TV show), large foreheads, anthropomorphism. Yeah, about that last one…it's virtually impossible for me to look at a tree, a magpie, a spider, or my 22 pound cat and not see human emotion pooling in their eyes…or branches. I cheer when a plant sprouts a new leaf. My library is a living, breathing thing, and I would never, ever intentionally break the spine of a book. Whenever I am in a garden, I send my love to the bees. It seems rude not to do these things.
Little wonder that a book like The Curious Garden is so appealing. First, the acrylic and pencil illustrations are absolutely beautiful. Second, and most importantly, it's about sentient greenery. A rosy-cheeked boy named Liam discovers a few struggling plants growing on an old abandoned railroad track. He decides to help them, and the plants thrive under his care. The plants grow restless and decide to explore the open railway. Very soon the entire trestle is covered in green. In the middle of smoking chimney stacks and old grey factories with cracked windows, a garden is born. The following summer, the curious garden seeks out even more unlikely places to bloom, poking through cracked sidewalks and rusted out cars.
"But the most surprising things that popped up were the new gardeners."
The railway garden inspires the neighbours to create their own gardens, and shared gardens, and even bigger public gardens, and eventually the cement and steel landscape is given a complete green makeover. Even in the ugliest places, a plant will grow. One plant is a lovely thing. A garden is transformative. It changes everything.
Peter Brown is a graduate of the Art Centre College of Design in Pasadena, CA and now lives in Brooklyn, NY. I first ran across Brown's work in a copy of the Communication Arts Illustration Annual (issue # 47). Included in the collection of the top illustrations of 2005, were several luminescent paintings from Brown's first book, The Flight of the Dodo. I immediately slapped a post-it note on the page, indicating further investigation was required. And by 'further investigation', I mean, PHONE BOOKSTORE AND ORDER BOOK. Which I did. Those Illustration Annuals are like crack dealers.
Peter Brown's inspiration for The Curious Garden was the garden walkway created on an elevated railroad in Manhattan, called the High Line. However, as nice as this walkway is, where are the trees and flowers that look like cupcakes with brightly coloured sprinkles? Brown's garden is full of pluckiness and charm, and as anyone likely to anthropomorphize plant materials knows, affability is essential.
There is a fascinating book that came out a few years ago called The World Without Us by Alan Weisman. It's about nature reclaiming the earth once humanity has shuffled off this mortal coil (and before the damned dirty apes take over.) The Curious Garden has a alternate message. What if we reclaim our bleak urban landscapes now? There is nothing heavy-handed about the text, which is minimal, or the illustrations, which are inspiring. It's quite simply, a joyful book. And, I am happy to report, it's spine is still intact.
Peter Brown has a wonderful website, which is well worth a stroll. (I love the flies buzzing around the cow.) You can check out his site here.
Also, there is a very good interview between Peter Brown and Kent Gustavson on the Sound Authors website, which you can read here.
The Curious Garden by Peter Brown, published by Little, Brown and Company, 2009.  ISBN: 9780316015479
Mr. Tiger Goes Wild by Peter Brown. Little, Brown 2013 (click on the link for the full review.)
Creepy Carrots by Peter Brown & Aaron Reynolds, Simon & Schuster 2012 (click on the link for the full review.)
Flight of the Dodo by Peter Brown, published by Little, Brown, 2005.