In the autumn of 2013, when I first learned of Henny by Elizabeth Rose Stanton, I was so struck by the premise – a chicken with human arms – I did not need to read further. It just seemed so funny, so completely absurd. And full of possibility. I immediately put in an order, and then followed the author on Twitter and Facebook for updates. In the months leading up to the January publication of the book, Elizabeth Stanton made me fall in love with Henny. I was not alone, and it was fascinating to watch a character generate so much goodwill and support via social media. Indeed, I was so excited about the publication, I mistakenly ordered it twice.
There is no doubt that having arms gives a chick certain advantages, especially on a busy farm. In addition to helping the farmer with his chores (including milking a very nervous cow), Henny can point, brush her teeth, and pick up little bugs with chopsticks. And yet, challenges exist. Long sleeve, or short sleeve? Left hand, or right? Without wings, will she ever fly? Young Henny suffers her worries alone, but along with arms she is also gifted with imagination, and she has big plans for her life. This perhaps, is her true advantage.
Henny is Elizabeth Rose Stanton's first picture book. In gentle, translucent watercolour and pencil, Stanton creates a high concept story that is both beautifully executed, and deeply endearing. One would have to be in possession of a cold, cold heart not to feel for this poor chick as she fumbles with her gangly appendages, unsure what to make of her long arms and opposable
thumbs. In a winged world, Henny is bound to attract all sorts of unwanted attention, including ridicule (barnyards can be very cruel), but Stanton captures Henny's vulnerability and yes, pluck, with feather-light simplicity and humour.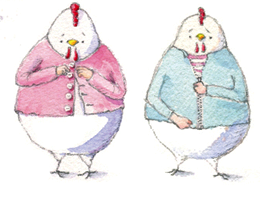 The sense of 'otherness' we all feel during formative periods of our lives is physiologically manifested in Henny –  a chicken with arms. Her struggle is both external, and internal; a theme Stanton illustratively plays with throughout the book. Sometimes it's about buttons. Sometimes, it's about fitting in. Our individuality is what makes us who we are, and for most of us, it is a source of strength. Eventually. For the newly hatched, difference is isolating, even embarrassing, but as Henny learns to navigate her world and embrace her uniqueness, it is also a thing to celebrate.
Henny…you go girl!
Elizabeth Rose Stanton grew up in New York State, studied art history and business administration in college, and then switching track entirely, earned a graduate degree in architecture. Elizabeth's inner doodler eventually beckoned, and the Seattle-based mother of three stepped into full-time writing and illustration. Though she does not (currently) own a chicken, she is in possession of two folded-eared cats and a one-eyed dog. Please visit her website Penspaper Studio, for more unique scribbles.
Henny by Elizabeth Rose Stanton. A Paula Wiseman Book, Published by Simon & Schuster, 2014
Click on this link for an informative and illustratively detailed interview with Elizabeth Rose Stanton at Kathleen Temean's Writing and Illustrating blog.