I love bees.
I may have begun another bee book review this way, but the sentiment remains true. I love bees, and I love books about bees. The Honeybee by Kirsten Hall and Canadian illustrator Isabelle Arsenault would make me fall in love with bees even if – gasp – I hated bees. Instead, this joyous, beautiful book makes me fall in love all over again.
I didn't start out that way. Like most, I feared bees, especially their array of stinger accessories, but the more trails I walked, the more flowers and gardens and fields I observed, the more my admiration grew for these tiny, gentle pollinators.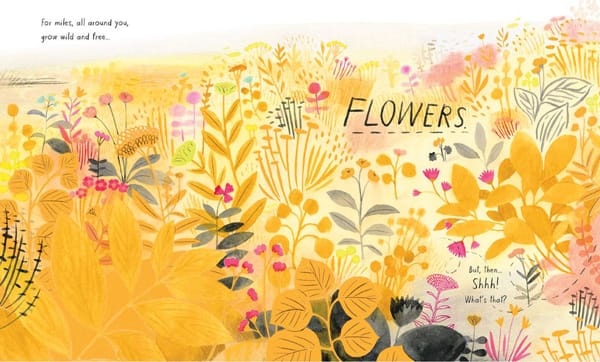 The Honeybee takes us on a journey through the life of a bee, and a bee colony, as pollen is collected and honey created. The story trajectory is familiar – we all kinda know what bees do – but in word and image, The Honeybee stands alone as a thing of absolute beauty. Kirsten Hall's playful poetry tells the story simply and humourously, but with a kind of meandering lilt, as if the words are perched on the hum of a bee. Isabelle Arsenault continues her run of stunning picture books, finding new ways to visually charm, and at the same time, comfort, with a throw-back warmth reminiscent of classic children's picture book fare.
As the story begins, the reader is invited over a hill to a field of wild flowers, where a bee makes her debut in a celebratory, double-page spread.
A BEE!
Yes, a bee, with an affable, smiling face and a pair of big friendly eyes. Perhaps not quite an accurate portrayal of Apis mellifera, but true to the jubilant spirit of the book. This bee is an absolute darling, buzzing and humming through the pages as she whirls around fields of wild flowers collecting pollen. Who better than Isabelle Arsenault to imagine this blossomed landscape? The three-time Governor General Award-winning illustrator makes yellow and black, and its variations, the dominant colours – a nod to the bees' striped apparel. The pops of pink and blue in the flowers are all the more stunning against this honeyed backdrop.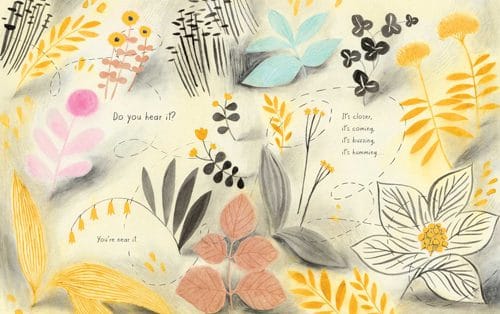 Like a hive, every element – from Hall's storytelling to Arsenault's glorious illustrations, work in balanced harmony. The text, which has a lovely hand-drawn quality, uses a font designed by Arsenault, named Honeybee. This book lives and breathes…and buzzes…its subject matter.
The Honeybee does what most children's books with a message fail to do. It charms, eliciting an appreciation in the reader not only for bees and the work they do, but for the natural environment that supports their livelihoods, and tangentially, ours. Author Kirsten Hall has a deft hand, lovingly and reverentially telling the story of the honeybee. In making us fall in love, we are much more apt to respond with love. As she states in the postscript: "I wrote this story for an important reason. The honeybee is one of our world's most marvelous creatures. And sadly, it's in danger. In writing this book, I was hoping you might grow a new appreciation for the honeybee – and that you'll join me in caring about its future." Mission accomplished.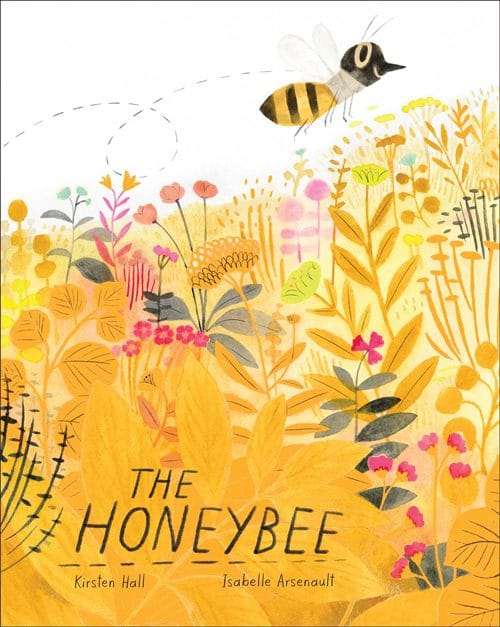 Kirsten Hall is a former preschool and elementary school teacher who has authored more than a hundred learn-to-read stories for emergent readers. Today, she is the founder and owner of a boutique children's book illustration and literary agency, Catbird Productions. Hall is the author of the picture books The Gold Leaf and The Jacket, which was a New York Times Notable Book of 2014. Follow her at: hallwayskirsten.tumblr.com
Isabelle Arsenault is one of Canada's – and the world's – best and most celebrated illustrators. She studied graphic design at Universite du Quebec a Montreal, and in 2004 illustrated her first children's book, Le Coeur de Monsieur Gauguin, for which she received Canada's highest artistic honour, the Governor General's Literary Award for Illustration. Following this, she was a finalist on three other occasions for the GG's: My Letter to the World, Once Upon a Northern Night, and Migrant, which was also among The New York Times 10 best illustrated books of 2011. In 2012, Arsenault received her second Governor General's Award for Virginia Wolf, and in 2013, she received her third Governor General's Award for the French edition of the graphic novelesque picture book, Jane, the Fox and Me (Jane, le renard et moi). See more of her work here: isabellearsenault.com
The Honeybee by Kirsten Hall, with illustrations by Isabelle Arsenault. Atheneum Books, 2018.
Other Isabelle Arsenault illustrated books reviewed in 32 Pages:
Once Upon a Northern Night by Jean Pendziwol
Migrant by Maxine Trottier
Jane, the Fox & Me by Fanny Britt (included in a roundup)
Other BEEautiful books reviewed in this blog: UnBEElievables by Douglas Florian (Beach Lane Books, 2012)