Some books radiate charm. Often, it's not any one factor, but a seamless blend of clever writing, exquisite illustration, and a third, more elusive ingredient – a goodness, for lack of a better word, superseding all. This is Carter Goodrich territory. With the release of Mister Bud Wears the Cone, the third book in his dog-centric series, I can state unequivocally (and with a great deal of affection), the man knows how to charm.
Mister Bud Wears the Cone further examines the sometimes fractious relationship between two dogs: Mister Bud, a generously snouted, routine-loving mutt, and Zorro, a tiny, goatee'd pug. In the first book of the series, Say Hello to Zorro, Mister Bud is introduced to Zorro, his new 'sibling', and is none too pleased to share his comfortable, predictable life with the eager young pup. In the second book, Zorro Gets an Outfit, it is the pug who is faced with an untenable situation, in this case an embarrassing piece of clothing, and like Mister Bud, his path toward resolution is both funny and sweet. In Mister Bud Wears the Cone, the bone is once again tossed to Mister Bud, who in this outing must deal with that most intrusive of protective pet care devices – the dreaded cone of shame.
As the story opens, Mister Bud has developed a hot spot on his flank, which he can't stop bothering. His mother (who like all humans in this series is never fully depicted), comforts Mister Bud with ointment and hugs, which infuriates Zorro. Not only is he grabbing all the attention, his ailment is delaying their shared schedule of 'biscuit then a walk time.' It gets worse. Mister Bud must wear the cone. Mister Bud hates the cone. For awhile, he has an ally in Zorro,
who tries to help Mister Bud remove it, but when all attempts fail, Zorro loses interest. Like all similarly afflicted dogs, Mister Bud is a half-blind, stumbling disaster with the cumbersome cone. Like all siblings, Zorro can't help teasing Mister Bud, laughing at his clumsiness while helping himself to the biscuits. When Zorro takes his favourite toy, Mister Bud runs after the pug and the cone knocks over a lamp, breaking it. Never let it be said dogs aren't capable of schadenfreude. While Mister Bud cowers under a chair, consumed with guilt, Zorro eagerly awaits the inevitable parental reprimand. But…as anyone who has ever been around an animal wearing a cone knows, it is impossible to feel anything but sympathy, and in Mister Bud Wears the Cone, generosity of the heart, and of the treat, is a given.
The continuing adventures of Mister Bud and Zorro are meant to be funny and entertaining, and they most certainly are, but as an illustrator and dog lover, what I find particularly interesting is how Goodrich imbues his pooches with pure canine authenticity. They are the very personification of the complex emotional lives of dogs. This is no small feat. Goodrich is a master of comic characterization, and from schnozz to tiny paws, these dogs are hilarious. Their wildly expressive and beautifully exaggerated features might exclude them from the Westminster Dog Show, but Goodrich never loses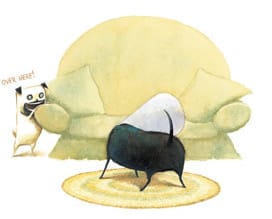 sight of their essential dogness. It's in their physicality – in the way they hold their bodies, the perkiness of their ears, how they lean in, how they nap – it's all dog, and because of this, these tells, they radiate emotion. It's easy to love these guys – to feel for them, to laugh at their predicaments, to sympathize not only with Mister Bud's frustrations, but also Zorro's. Anyone who has ever had a sibling, or is the parent of siblings, will recognize the rivalries, but also the companionship that forgives all. Anyone who has ever had a dog will see their own mutt in these comical canines, cone or no cone. And even if none of the above applies, Mister Bud Wears the Cone is just a darn good story, with heart-thumping emotion, loveable characters, and spectacular art.
My favourite doggy in the world underwent surgery several weeks ago for the removal of five lumps (all benign, thankfully.) When Maggie was released the day after surgery, she had two large shaved patches on both sides of her torso, another two on her neck, and multiple stitches. Doped up and disoriented, she emerged out of the back of the vet's office wearing a comically large cone and a woeful, accusatory expression. In short, she looked miserable, very much like Mister Bud. The cone didn't last beyond the car, the patient didn't bother with her wounds (much), and once the daily schedule of biscuit-then-nap-time resumed, she relaxed. Like Mister Bud and Zorro, it's all about the routine. And the snacks.
I am a long-time fan of Carter Goodrich, having been an illustration junkie for many years. Particular favourites are his numerous New Yorker covers, and his character designs for Despicable Me, Ratatouille, The Croods, and Finding Nemo, among others. A Rhode Island School of Design graduate, Mr Goodrich has illustrated a number of children's picture books, including A Creature Was Stirring, The Hermit Crab, and the aforementioned Say Hello to Zorro and Zorro Gets an Outfit. Fingers (and paws) crossed, Mister Bud Wears the Cone will not be the last in this brilliant, and beautifully imagined series.
MISTER BUD WEARS THE CONE by Carter Goodrich. Simon and Schuster, 2014
Previously reviewed (click on the title):
Zorro Gets and Outfit by Carter Goodrich. Published by Simon & Schuster, 2012
Say Hello to Zorro by Carter Goodrich. Published by Simon & Schuster, 2011
– See more at: http://32pages.ca/2012/06/17/zorro-gets-an-outfit/#sthash.XDdNpc7c.dpuf
Zorro Gets and Outfit by Carter Goodrich. Published by Simon & Schuster, 2012
Say Hello to Zorro by Carter Goodrich. Published by Simon & Schuster, 2011
– See more at: http://32pages.ca/2012/06/17/zorro-gets-an-outfit/#sthash.XDdNpc7c.dpuf
ZORRO GETS AN OUTFIT by Carter Goodrich. Simon and Schuster, 2012
SAY HELLO TO ZORRO! by Carter Goodrich. Simon and Schuster, 2011