UPDATED for 2014: Beautiful, chilly, fattening October. Here again, and happily so. Along with the usual waterfall of dead leaves, fun-sized chocolate bars by the bagful, and if the drop in temperature is any indication, snow, I bring you my annual celebration of Halloween books. Yes, this is a re-hash of previous Halloween posts, but for this year~a few gorgeously ghoulish additions for your reading and visual pleasure, along with the ghosts of Halloween's past (click on the links for longer reviews.)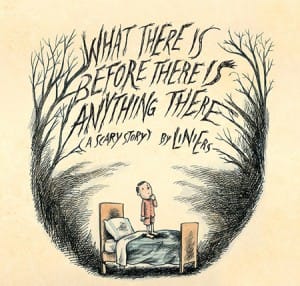 New For 2014, the truly scary WHAT THERE IS BEFORE THERE IS ANYTHING THERE by the Argentine cartoonist Liniers. This beautifully illustrated book is wildly funny, and surprisingly disturbing. As a former scaredy-cat kid, I can relate to the boys' nightmarish visitations when the lights go out. Liniers balances humour with creeptastic (and yet somehow affable) creatures that do nothing but stare at the boy – until the thing that is there before there is anything there arrives. Yikes!
Fresh off the high seas, the wickedly funny HERE BE MONSTERS by the great Argentinian illustrator Poly Bernatene (with delightful swashbuckling rhymes by Jonathan Emmett.) Previous conspirators on The Santa Trap, this brilliant twosome have created a pirate tale like no other. Beware of hidden treasure folks, this beautiful and deadly tale of Captain Cut-Throat and his unfortunate crew will leave you laughing (and running for shore.) Arrrrrrr…..
What is Halloween without a ghost story? Look no further than the deliciously witty GHOSTS (Sonia Goldie/Marc Boutavant, 2013.) Courtesy of a couple of affable spooks, the
record is finally set straight with regard to ghosts, specifically house ghosts. Apparently, we've been mislead. True ghosts inhabit every corner of our homes, and nary a one would be seen dead (well, you know) in a sheet, or utter a single 'Boo.' Boutavant's gorgeously illustrated book is packed with every type of apparition; library ghosts, television ghosts, and of course, that big fellow who lives under your bed. Supernatural fun.
CREEPY CARROTS (Aaron Reynolds/Peter Brown, 2012) Absolutely the best and most beautiful book on haunted root vegetables in print. Poor Jasper Rabbit, with his instatiable taste for carrots. Who will believe that he is being stalked and tormented by garden vegetables? Not his friends, not his parents. Jasper is forced to act alone, and his ingenious, and somewhat over the top solution may be the answer to more than one problem.